My Life With The Thrill Kill Kult - Sinister Whisperz – Volume One: The Wax Trax Years (1987-1991) (Limited 2CD Box Set)
Pozostałe płyty: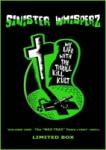 My Life With The Thrill Kill Kult
Data wydania: 2010-07-09
Wydawca:
Rustblade
Tracklista:
01. And This Is What The Devil Does
02. Burning Dirt
03. Do U Fear (for Your Child?)
04. Nervous Xians
05. The Days Of Swine And Roses
06. These Remains
07. Shock Of Point 6
08. A Daisy Chain 4 Satan
09. Ride The Mindway
10. Kooler Than Jesus
11. Leathersex
12. A Girl Doesn't Get Killed By A Make-believe Lover... 'cuz It's Hot
13. Satana Rising
Bonus Cd "live In San Antonio"
01. And This Is What The Devil Does
02. A Daisy Chain 4 Satan
03. Gateway To Hell
04. The Days Of Swine And Roses
05. These Remains
06. On This Rack
07. Burning Dirt
08. X Communication
09. Do You Fear (for Your Child?)
10. Ride The Mindway