NÄO objawieniem czwartego MIFu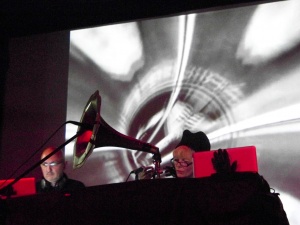 Czytano: 77235 razy
Wykonawca:
Galerie:
Ostatnie tematy na forum:
Czwarta edycja imprezy pod nazwą "Moravski Industrialni Festival" w Ołomuńcu niestety już za nami. Dwa dni doskonałej, międzynarodowej, industrialnej zabawy. Muza zakrapiana śliwowicą, zagryziona czeskim gulaszem przygotowanym przez chłopaków z Akimbo i wielojęzykowe rozmowy do wczesnych godzin rannych.
Pierwszy dzień zaczął się dość spokojnie. Powitanie gości chlebem i solą (w tym przypadku gulaszem i śliwowicą), przedstawiania, uściski, szacun – szacun i zaczynamy. O początku niewiele mogę powiedzieć, bo zajęta byłam udowadnianiem wszystkim zagranicznym gościom, że polska wódka jest znacznie lepsza od czeskiej śliwowicy. I udowodniłam! Chłopaki z
300.000 V.K.
ledwo wyszli na scenę przez moje wysokoprocentowe argumenty. Ale wyszli i absolutnie doskonale zagrali! Jak każdy tego dnia.
Alda (wokal Akimbo i gospodarz festiwalu) zawsze z ogromną dokładnością dobiera zestaw muzyczny. Jak się go zapytacie dlaczego nie zagrał dotąd ten albo tamten odpowiada, że to za lekkie, to za ciężkie, a to nie te klimaty. I koniec kropka. Zawsze podstawą jest rasowy industrial w towarzystwie eksperymentalnych smaczków. W tym roku też jeden smaczek był! Aj i to jaki! Ale o tym za chwilę.
O samym klimacie imprezy nie będę opowiadać za długo, bo tego nie da się opowiedzieć. To trzeba przeżyć. Impreza różni się od większości festiwali na jakich zwykłam bywać i to wcale nie muzyka tworzy taką atmosferę, ale ludzie. Jak ktoś nie wie jak się bawią Czesi musi pojechać tam choć raz. Od pierwszej chwili, gdy w drzwiach witają cię organizatorzy czujesz się jakbyś tam właśnie się urodził. Nie wspomnę o tym, ze po kilku piwach wszyscy mówią w uniwersalnym języku polsko-czesko-słowackim. No jest wybornie!
Ale wrócimy do muzy: dzień drugi.
Tego wieczoru zatrzymałam się na krótką chwilę przy
C.3.3.
Ciekawa byłam tego co pokaże Paul Jamrozy (współzałożyciel grupy Test Department). Czekałam na dźwięki, które werżną się w me członki, ale jakoś się nie doczekałam. Paul przy laptopie jakoś nie robił na mnie tak ogromnego wrażenia jakiego się spodziewałam. Natomiast zauroczyła mnie "ciocia Matylda". Ciocia Matylda – wspaniale poruszająca się kobieta u boku Paula odziana w czarne pióra, czarny kapelusz i czerwone usta robiła ogromne wrażenie. Ciocia Matylda naprawdę nazywa się Roz Corrigan i stanowczo to ona ratuje ten duet.
Drugiego dnia zazwyczaj króluje
Akimbo
. Organizatorzy pod sceną zbierają wszystkich swoich przyjaciół, którzy bawią się niezwykle energicznie. Zawsze boje się o Aldę (voc.), że zrobi sobie krzywdę o drut kolczasty, którym otoczona jest cała scena. (W 2011 roku chłopaki grali w małym warszawskim klubie Kocioł, na który też przytargali ze sobą ten drut!!!) Alda, Hanys i Radim totalnie odlatują podczas każdego koncertu. Odlecieli i tym razem, a Alda prawie zleciał razem z tym drutem ze sceny. Moc!
Absolutnym odkryciem tego festiwalu była dla mnie formacja
NÄO
z Francji. Szykując się na ten wyjazd jak zwykle przeryłam net, żeby sprawdzić każdą kapelę i sprawdzić na co mam się nastawić. Nie zrobili na mnie wielkiego wrażenia. Na koncercie jednak okazało się, że cholernie się myliłam. Nagrania, które można znaleźć w necie w ogóle nie oddają tego co ta trójka muzyków wykonuje podczas grania sztuki. Żywa perkusja, gitara i wielki klawisz i energia tak ogromna, że zanim dotarło do mnie co się dzieje, to ze trzy kawałki stałam na wdechu. Po koncercie usłyszałam od Hanysa z
Akimbo
: "Miałaś wielkie szczęście, że ich tutaj widziałaś. Oni grają od pół roku, a za rok będą tak sławni, że nie będzie nas na nich stać". Mam przedziwne wrażenie, że może mieć rację.
To jedynie skrót tego co działo się w Ołomuńcu. Serdecznie zapraszam w przyszłym roku. Szczególnie dla atmosfery, którą tworzą chłopaki z
Akimbo,
no i czeskiego gulaszu z wkładką… Na zachętę dodam, że w sobotę drugiego dnia festiwalu wszyscy razem (muzycy i fani) szwendają się wspólnie po pięknym mieście Olomouc. To też wyjątkowe chwile…
Na festiwalu wystąpił skład:
300.000 V.K/ Dreihundert Tausend Verschiedene Krawalle, C.3.3., In Slaughter Natives, NÄO, MINAMATA, NAPALMED, EX_TENSION, [HAVEN], FRONTIER GUARDS
oraz
AKIMBO

Wydarzenie:
Inne artykuły:
Najnowsze komentarze: