Various Artists - Gothic Visions Vol. III (DVD+CD)
Pozostałe płyty: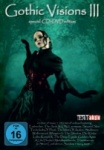 Various Artists
Data wydania: 2011-11-07
Wydawca:
Echozone
Tracklista:
Participating Artists:
A Life Divided, Wolfenmond, Eisbrecher, Stahlmann, Traumtaenzer, Mundtot, Aeon Sable, The Arch, Metall-spürhunde, The Mist Of Avalon, Canterra, Lacrimosa, Six Times Zero, Christine Plays Viola, Regardless Of Me, Vendemmian, The Deep Eynde, Lolita Komplex, Pavla Mikulasova, Eden Weint Im Grab, Ghostfog, Coppelius, Golden Apes, Sandow, In Strict Confidence, Technikult Of Flesh, Black Tears, Der Klink, Transit Poetry, Bionic, Minusheart, Felsenreich, Schwarzes Fragment, Whispers In The Shadow, Place4tears, Veneno Para Las Hadas, Violent Vision, Verney 1826, Eisblume, Rebentisch, Psycherotique, Second Skin, Dr. Arthur Krause, The Eternal Fall, Fundetta, The Prayer, Childrenon Stun, Psycherotique, Gates Of Dawn, Explizit Einsam, Kehrwert, Twenty Six Tears, Andreas Gross, Leichenwetter, Saints Of Ruin, [de:ad:cibel], The Last Cry, The Eternal Fall, Fun-detta, Liquid Grey, The Prayer, The Daughters Of Bristol, Verney 1826, The Deep Eynde, Harlots Of Beyond, Pavla Mikulasova, Xmh, Dr. Arthur Krause, New Zero God, Anna Aliena, Basilisk, Rigna Folk, Twenty Six Tears, Luc Stargazer, Northern Sadness, Gates Of Dawn, Golden Apes, Mirroredin Secrecy, Rebentisch, Eisblume, Art Noir, Canterra, Dolor, Elandor, Chamsiin, Technikult Of Flesh, Inscissors, Christine Plays Viola, Projekt Ich, Katanga, Astray Path, P24 , Mission Zanzibar, Felsenreich, Repeating Pain, Tränenwelten, Ikon, The Hiram Key, Descendants Of Cain, Herzparasit, Denight, [die!], Downstairs Left, Tunes Of Dawn, Wayne Hussey
Picture Format
Pal
Region Code
0 (all Regions)
Technical Information
Nb:- Pal = European Tv Format, Ntsc = Usa Tv Format. Please Check The Compatibility Of Your Dvd Player With The Relevant Tv Format, As Well As Its Region Compatibility, Before Ordering Your Dvd. If You Have Any Doubts Then Please Email Us.