Leaether Strip - When Blood Runs Dark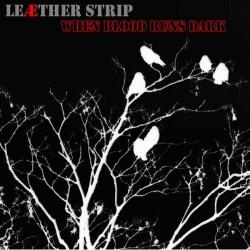 Czytano: 2834 razy
85%
Wykonawca:
Galerie:
Katalog płyt:
Ostatnie tematy na forum:
Od pierwszego, tytułowego utworu –
When Blood Runs Dark
, EP-ka Leaether Strip wpada w ucho. W utworach pojawia się przejmujący wokal, który w niektórych kawałkach przyprawia słuchacza o ciarki na plecach i jednocześnie brzmi niesamowicie zmysłowo… Przynajmniej ja go tak odbieram. Jak za każdym razem kiedy pierwszy (i kolejny) raz słucham nowej płyty wyszukuję utworów jakie chciałabym usłyszeć na imprezach. W tej grupie śmiało znalazłby się
You Don't Look the Same
,
The Devils Daughter
,
Could ya Did ya
,
Go Ahead
oraz wspomniany już
When Blood Runs Dark
. Mam wrażenie, że każdy z wymienionych tytułów jest
w stanie porwać słuchaczy na parkiet i sprawić, że ich ciała zaczną poruszać się w mrocznych, elektronicznych rytmach stworzonych przez Larsena. Jedne z nich są spokojniejsze jak na przykład:
The Devils Daughter
lub
Go Ahead
, a inne bardziej energetyczne. Płyta jest jedną z tych, które na długo zapadają w pamięć. Podczas jej słuchania w mojej głowie narodziło się marzenie, że bardzo chciałabym usłyszeć Leaether Strip w jakiejś przestrzeni pofabrycznej, być może nawet w poznańskiej Starej Rzeźni. Może kiedyś ono się spełni? Teraz pozostaje nam nic innego, jak czekać na album tego artysty, skoro niedawno pojawiła się EP-ka.
Tracklista:
01. When blood runs dark (club version)
02. You don't look the same (1982 extended version)
03. Going nowhere (club version)
04. The damaged people (club version)
05. The scalpel song (sliced vocal cords version)
06. The devils daugther (spawn of satan mix)
07. Will the sun return (Sun glory mix)
08. Could ya did ya (Country club mix)
09. Go ahead (Sui cædere mix)
10. Corvus monedula
Inne artykuły:
Najnowsze komentarze: