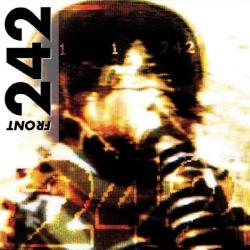 Czytano: 5289 razy
80%
Wykonawca:
Galerie:
Katalog płyt:
Ostatnie tematy na forum:
Belgijscy prekursorzy EBM -Front 242- w skład którego wchodzą : Daniel Bressanutti, Patrick Codenys, Jean Luc de Meyer oraz Richard Jonckheere prezentują nam właśnie unikatowy box pod tytułem "Moments", ukazujący się tuż po opublikowaniu "First Moment". Nowe wydawnictwo zawiera w sobie istną archiwalną jak i bieżącą dokumentację trasy koncertowej odbytej pod nazwą "Vintage Tour" tym samym zapowiadając istną gratkę dla fanów tegoż (jakże kultowego w pewnych kręgach!) zespołu. Niesamowite połączenie industrialnego EBM i new beat gości u nas już od 1981 roku kiedy to mieliśmy okazję obserwować narodziny projektu "Prothese", stworzonego przez Daniela i Dirka, a następnie przemianowanego przez obu Panów na miano 'Front 242', przy czym Dirk dziękując za współpracę odstąpił swe miejsce Jean'owi i Codenyssiemu. Słów kilka o nowym dokonaniu kapeli...Będąc szczerą życzyłabym sobie, abym na Castle Party 2009 mogła uświadczyć tylu emocji i wrażeń, jakie zawiera w sobie owa rejestracja trasy koncertowej zespołu. Jak zapewne wszystkim Wam już wiadomo - Front 242 został okrzyknięty jedną z przyszłorocznych gwiazd bolkowskiego festiwalu i właśnie na to niewątpliwe wydarzenie na polskiej scenie muzyki alternatywnej przypada mi w udziale zacierać łapki!
"Moments" łączy w sobie nowe aranżacje tak starych utworów jak "Operating Tracks" czy "Lovely day" uznawanych jako klasyki znajdujace się na mniej oficjalnych wydawnictwach. Muzyka porywająca do tańca, muzyka żywiołowa, muzyka prowokująca. Front 242 idealnie wkomponował się w nową generację syntezatorów, zyskując miano zespołu, który w miarę upływu czasu nic nie traci ze swego kunsztu. Jest to niesamowitym plusem, zważając na fakt, ze wydobywające się z głośników dźwięki zdają się nadal porażać swą świeżością, choć doskonale wiemy iż sporo czasu upłynęło od ich "pierwszej młodości". Cóż... miło żyć w świadomości że są na tym świecie jeszcze ludzie dobrze znający się na swym fachu i jako istny "muzyczny maniak" oddaję się w ich ręce skąd inąd pełna zachwytu i pozbawiona wszelakich obaw, że powierzone zaufanie będzie w jakikolwiek sposób nadwerężone. Krótko mówiąc - gorąco polecam!
Tracklista:
CD1 
1. Happiness
2. Body to Body
3. U-Men
4. Lovely Day
5. Religion
6. Welcome to Paradise
7. Commando Remix
8. Funkhadafi
9. 7Rain
10. Until Death
11. Moldavia
12. Together
13. Im Rhythmus Bleiben
14. HeadHunter
15. Operating Tracks
16. Punish Your Machine 
CD2 
1. First in First Out
2. No Shuffle
3. Don't Crash
4. Welcome to Paradise
5. Commando Remix
6. Quite Unusual
7. Master Hit
8. Crapage
9. Melt
10. Gripped by Fear
11. Loud
12. Moldavia
13. Take One
14. HeadHunter
15. Kampfbereit
16. Punish Your Machine
Inne artykuły:
Najnowsze komentarze: