Hocico - A Traves de Mundos que Arden (DVD)
Pozostałe płyty: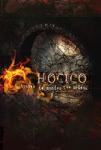 Hocico
Data wydania: 2006-03-10
Wydawca:
Out Of Line
Tracklista:
M'era Luna Festival 2005:-
01. Without A God
02. Tales From The Third World
03. Distorted Face
04. Born To Be (hated)
05. Poltergeist
06. Spirits Of Crime
07. Bloodshed
08. Odio Bajo El Alma
09. Bizarre Words
10. Untold Blasphemies
11. Forgotten Tears
12. A Broken Glass
Special Features:-
13. A Day At The Wave Gotik Treffen 2005
14. Mexicans At Work - Sangre Hirviente Recording Sessions
15. A Broken Glass - Live At Kir Hamburg 2000
16. 5 Mins Of Fame - Interview For National Cable Tv 1999
17. Memories Of Home - Extracts Of Hocico Shows In Mexico City
18. Born To Be (hated) - Animated Video Clip
19. Mexican Pose - Photo Session At Erk's House 2001 For "signos De Aberracion"
20. Forgotten Tears - Live At Werk Ii Wgt Leipzig 2004
21. Cuando La Maldad Despierta - Video And Slide Show
22. Hocico Speaking To Crazy Clip Tv 2002
23. Hell On Earth - Live At Kir Hamburg 2000
24. Angry Eyes On Mexico City - Visual Impressions From Hocico's Metropolis
25. Wrack And Ruin Visions - Extracts From The Backing Visuals 2004
26. Instincts Of Perversion - Live At Agra Wgt Leipzig 2002
27. Hocico And The Hocicones - Signature Session At Mera Luna 2005
Picture Format
Pal
Region Code
0 (all Regions)
Technical Information
Screen Format: Widescreen
Total Running Time: 152 Minutes
Sound: Digital Stereo
Nb:- Pal = European Tv Format, Ntsc = Usa Tv Format. Please Check The Compatibility Of Your Dvd Player With The Relevant Tv Format, As Well As Its Region Compatibility, Before Ordering Your Dvd. If You Have Any Doubts Then Please Email Us.