Nocturnal Culture Night 2013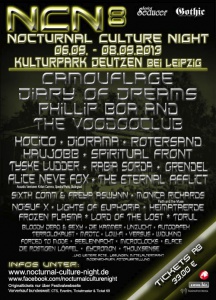 Czytano: 101474 razy
Wykonawca:
Galerie:
Ostatnie tematy na forum:
Ostatnie promyki ciepłego słońca przebijają się przez korony drzew, z których opadają już liście, tworząc na ziemi kolorową mozaikę. Znakiem tego jesień zbliża się wielkimi krokami, wraz z tym letni sezon festiwalowy chyli się ku końcowi. Jedną z ostatnich imprez festiwalowych tego czasu jest
Nocturnal Culture Night
, odbywający się w Kulturpark w miasteczku Deutzen. Panująca tam kameralna, bardzo spokojna atmosfera, otaczająca całość matka natura, sprawia, że to wydarzenie jedyne w swoim rodzaju. Nikomu nigdzie się nie spieszy, dwie sceny plus trzecia na wydarzenia towarzyszące, malutkie kramiki kuszące swoimi specjałami i smakołykami, liczne zakątki schowane gdzieś między alejkami, w skrócie pełen chill out. Właśnie z takim nastawieniem zapakowaliśmy się w długa trasę ku
NCN
.
Zespołem otwierającym festiwal był pochodzący z Lipska
Thouxsense
. Panowie wypadli całkiem nieźle, grając mieszankę elektronicznego popu z rockiem, ciekawym w ich zestawie instrumentów były skrzypce.
Inauguracja sceny głównej należała do ekipy z
Seelennacht
. Zarówno od strony muzycznej i wizualnej bardzo przypominali Blutengel, a czy to dobrze czy źle to już pozostawiam, do oceny własnej. Ostatecznie bez szału, ale nie tak znowu najgorzej. ;)
Chwila przerwy i na scenie pojawił się zespół, który dla mnie wygrał wszystkie zawody tego dnia, absolutnie mnie zatkało! Sprawcami tego byli muzycy z zespołu
Torul
. Pochodzą ze Słowenii, gatunek, w jakim operują dźwiękami to elektro-pop. Linie melodyjne szybko wpadające w ucho, a co za tym idzie zapadają w pamięć i to w tym pozytywnym sensie. Ich największym atutem jest wokalista, jego głos miażdży, robi tak piorunujące wrażenie, że do końca wieczoru miałam go w pamięci. Nagrania studyjne nie oddaja w pełni mocy i lekkości, z jaką śpiewa Jan Jenko. Jeśli na kimś nie zrobiły wrażenia utwory "Try" lub "In whole" to cover Tears for Fears "Mad World" musiał wywołać emocje, choćby negatywne, ale obok tego nie można było przejść obojętnie. Fantastyczny koncert!
Przenosimy się pod małą scenę, gdzie czeka na nas uderzenie mocniejszych i szybszych elektronicznych beatów.
Noisuf-X
nie dał nikomu stać w miejscu, publiczność szalała skakała, krzyczała do rytmu. Czuć było głód dynamicznej, szybkiej muzyki, set całkiem nieźle sprostał temu zadaniu.
Nad parkiem zaczęło zachodzić słońce, a to oznacza, że na głównej scenie niebawem pojawi się
Rotersand
. Tym razem niemiecki projekt wystąpił w niepełnym składzie, jako duet. Zagrane przez nich elektroniczne sety z dodatkiem future popu i muzyki trance wraz z wokalem wpasowującym się w całość przyciągnęły pod scenę spory tłum. Charyzmatyczny wokalista Rascal od samego początku utrzymywał kontakt z publicznością, sprawiając, że miał ją "w garści". Sympatyczny koncert, dobre nagłośnienie, które z każdym kolejnym koncertem na głównej scenie jest podkręcane. ;)
W czasie, gdy na małej scenie zaczęli już grać panowie z
Tyske Ludder
, udałam się kilka kroków dalej, w głąb parku na
Forced to Mode
. Zespół nagrywa swoje utwory, ale dziś ich set lista składała się z największych przebojów Depeche Mode. Pojawiło się m.in. "Enjoy the Silence", "Walking in my Shoes". Co prawda do oryginału im daleko, jednak wokalista w swojej scenicznej stylistyce miał coś z Dave'a.
Wieczorem Kulturpark jest jeszcze bardziej urokliwy. Alejki zostały oświetlone poprzez owinięcie wokół korytarzowych pnączy światełek. Aż chce się usiąść na jednej z ławek pośród drzew i rozkoszować się chwilą, blaskiem miejsca, muzyką dobiegającą z oddali. Tym bardziej, że jak na początek września to wieczór był bardzo ciepły.
Headlinerem piątkowego wieczoru było dobrze wszystkim znane i lubiane
Diary of Dreams
. Podobnie jak na tegorocznym Amphi, publiczność wypełniła po brzegi miejsce pod sceną w amfiteatrze. Koncert bardzo profesjonalny, właściwie nie ma się, do czego przyczepić, poza brakiem klawiszowca. Niespodzianką dla fanów było zagranie ostatnio rzadko wykonywanego live "False Affection False Creation" z pierwszego albumu zespołu. Nie zabrakło bisów, aczkolwiek ostatni "Traumtänzer" wykonany był w skróconej wersji.
Szybki skok pod małą scenę, gdzie głos rozgrzewała już Elena Alice Fossi ze swoim solowym projektem
Alice Neve Fox
. Na dobranoc bardzo przyjemny koncert, klasyczne instrumenty i Elena z wokalem w innej aranżacji niż to zazwyczaj z Kirlian Camera. Ciekawa odmiana, jednak osobiście bardziej do mnie przemawia w swojej standardowej wersji. Jako ciekawostkę dodam, że wśród zagranych utworów był wykonywany już dziś przez
Torula
cover "Mad World".
Jak się okazało koncert Alice Neve Fox nie był ostatnim, na scenie w parku (zwanej kulturową) przygotowany był jeszcze jeden specjalny event. Wywodzący się z Wielkiej Brytanii neo-folkowy projekt
6Comm & Freya Aswynn
. Przed występem muzycy poprosili publiczność o zachowanie całkowitej ciszy w trakcie koncertu. Co to było? Zbiór poezji śpiewanej z różnych źródeł przy akompaniamencie przypominającym wywoływanie duchów z lasu. Momentami nawet podpadające pod mantrę, kto wie, może jakieś zjawy faktycznie wypełzły i czaiły się pod krzakami? W każdym razie my mieliśmy już dość jak na jeden dzień.
Sobota przywitała nas piękną pogodą. Napięty program obfitował w atrakcje, pierwszym koncertem, który zatrzymał mnie na dłużej przy scenie niż pierwsze dwa kawałki był hiszpański
Terrolokaust
. Niezła dawka energii, czysty elektroniczny łomot. W sam raz by się trochę rozruszać.
Przy głównej scenie do wyjścia szykują się już niezawodni
Lord of the Lost
. Wcale się nie zdziwiłam, gdy nagle przy barierkach, które umieszczone są prawie, że na wyciągnięcie ręki od sceny, zmaterializował się całkiem spory tłum słuchaczy. Podobnie jak na M'era Lunie muzycy dali całych siebie, publiczność tylko domagała się więcej! Świetny występ, który uświetnił jeszcze Erk z
Hocico
wykonując z
LOTL
"Marching into Sunset".
Następnie szybkim krokiem, by mieć jak najlepsza widoczność, udałam się na pokaz mody. Po wybiegu chodziły modelki ubrane przez markę
Eve Couture
. Pokaz z dystansem, na luzie, modelki były sobą, widać, że dobrze się bawiły w trakcie show. Zwłaszcza, że nie było to "suche" przejście się w tą i z powrotem, tylko każda miała swój mały performance, zakończony wspólnym występem. Wracając do kluczowej kwestii; ubrania oczywiście w klimacie, z naciskiem na garderobę codzienną. Bardzo kobiece i dziewczęce, uniwersalne kroje, ciekawe połączenia kolorów, faktur i materiałów. Dla fanek panterek, kropek i kokardek prawdziwa gratka! Dodam, że wszystko wykonywane ręcznie w limitowanych ilościach.
Po raz drugi w trakcie tegorocznego
NCN
mieliśmy okazje posłuchać Adriana Hates'a i Gauna:A. Zagrali publiczności piosenki ze swojego pobocznego projektu pod nazwą
.com/kill
. Jeśli wydaje się Wam, że to drugie Diary of Dreams, to nic bardziej mylnego. Wiele tu elektroniki, zresztą na potrzeby występu na żywo ich klawisze i wokale wspierane były przez elektroniczną perkusję. Ciekawy koncert i alternatywa dla
DoD
.
Jak wspomniałam na początku Kulturpark kryje w sobie wiele ciekawostek, zatem postanowiłam je wszystkie zwiedzić, zawędrowałam do wioski pogańskiej, obfitującej w atrakcje. Rzut nożem, strzelanie z łuku, zdrowotne mikstury, wyroby ze skóry i nieśmiertelne podpłomyki, z czym tylko zapragniesz. Stoiskiem cieszącym się chyba największym zainteresowaniem był punkt z winami. Najróżniejsze od klasycznego z winogron po wynalazki typu wino różane, śliwkowe, po prostu cud, miód i orzeszki.
W między czasie na obu scenach zagrali:
Frozen Plasma
,
Versus
i
Diorama
.
Na tych ostatnich nawet udało mi się dotrzeć i wysłuchać od połowy. Zebrali bardzo dużą publiczność, która niemalże celebrowała koncert. Szczególną fanką nie jestem, ale, muszę przyznać, iż zagrali bardzo dobrze.
Kolejną gwiazdą sceny głównej i dla mnie najistotniejszą dzisiejszego dnia był duet
Hocico
. Pierwszy raz widziałam ich na żywo, więc moje zniecierpliwienie sięgało zenitu w trakcie przygotowywania sceny. Erk to dobrze wstrząśnięty wulkan energii, przez cały czas biegał, szalał, krzyczał. Istne szaleństwo w towarzystwie gry świateł, statywu do mikrofonu składającego się z czaszek, ciężkich tekstów i mocnych bitów. Absolutnie polecam.
Koncertami zamykającymi sobotę na
NCN
był
Haujobb
na małej scenie i
Phillip Boa & The Voodooclub
na głównej. Tak jak na pierwszy jeszcze zajrzałam, tak drugi z pełną świadomością odpuściłam.
Uroczym akcentem na koniec wieczoru był koncert
Spiritual Front
. Czarujący wokal, melancholia plus neofolk z elementami rockowej muzyki. Perfekcyjne zakończenie dnia, temperatura zaczęła odczuwalnie spadać, więc wróciłam do namiotu, jednak nagłośnienie było tak dobre, że grzejąc się pod śpiworem dalej mogłam cieszyć uszy włoską pieśnią.
Niedzielę rozpoczęłam od rockowego grania z zespołem,
Unzucht
. Jak na stosunkowo wczesną porę, publiczność dopisała i to bardzo. Występ bardzo udany i podobnie jak na M'era Lunie zbyt krótki ;)
Na głównej scenie swój koncert rozpoczął już kwartet
Bloody Dead & Sexy
. Deathrock z punkowym wokalem został ciepło przyjęty przez publiczność, ja z przyjemnością wsłuchiwałam się w złowrogie, brudne gitarowe nuty. Koncert promował niedawno wydany album "Bad Ambient", jednak nie zabrakło klasyków w postaci "Bloody Rose".
Następnie wystąpili
Heimataerde
, zapowiadało się intrygująco. Średniowieczna oprawa sceny, stroje historyczne, z daleka nawet całkiem wiarygodne. Muzycznie to elektroniczne granie w towarzystwie gitar i dziwnych instrumentów, powiedzmy, że "z epoki". Widownia, całkiem tłumnie zgromadzona, bawiła się w najlepsze, ja nie potrafiłam się w tym odnaleźć. Mimo, że mediewalne klimaty nie są mi obce, tak po wysłuchaniu dwóch pierwszych utworów miałam dość i zdezerterowałam w kierunku małej sceny.
Nastrój szybko wrócił na właściwe tory za sprawą ekipy z
Aesthetic Perfection
. W skrócie można być rzec, że powtórka z Castle Party tylko w mniejszej skali pod wzglądem wielkości sceny. Daniel oczywiście w swojej czarno-białej stylizacji, Tim na perkusji i Elliot za klawiszami szaleli, co najmniej tak jak publiczność pod sceną, na koniec udało się zespół skłonić do powtórnego wyjścia na scenę.
Po małej przerwie na deski sceny po raz drugi na
NCN
wszedł Erk Aicrag pod szyldem
Rabia Sorda
. Mieszanka electro, ebm z domieszką meksykańskich wpływów z dobrze znanym wokalem, czasem zamieniającym się w krzyk, nie mogła zawieść. Wraz z postępem koncertu rósł tłum zgromadzony pod sceną. Muzyków z pewnością to cieszyło, ja musiałam się ewakuować, gdyż tłum w przypływie emocji i wczuwania się w nastrój robił się coraz agresywniejszy (oczywiście bez przesady, nie było to pogo po polsku), ale nie miałam ochoty na fruwanie razem z nimi.
Wraz z występem
Camouflage
docieramy do końca festiwalu. Od "We Are Lovers" do finałowego hitu "The Great Commandment", zespół czarował najliczniej zgromadzoną w amfiteatrze publiczność. Do tego stopnia, że nieśmiale padający deszcz, stał się nieprzeszkadzającym detalem.
Po koncercie cała ekipa organizatorów, pracowników festiwalu zebrała się na scenie do wspólnej fotografii i podziękowań za wspaniały festiwal. Na tle innych, większych festiwali ten w małym Deutzen wypada po prostu uroczo, jest tu inaczej, dlaczego? Na to pytanie najlepiej znaleźć odpowiedź odwiedzając ten festiwal. Polecam!
Inne artykuły:
Najnowsze komentarze: